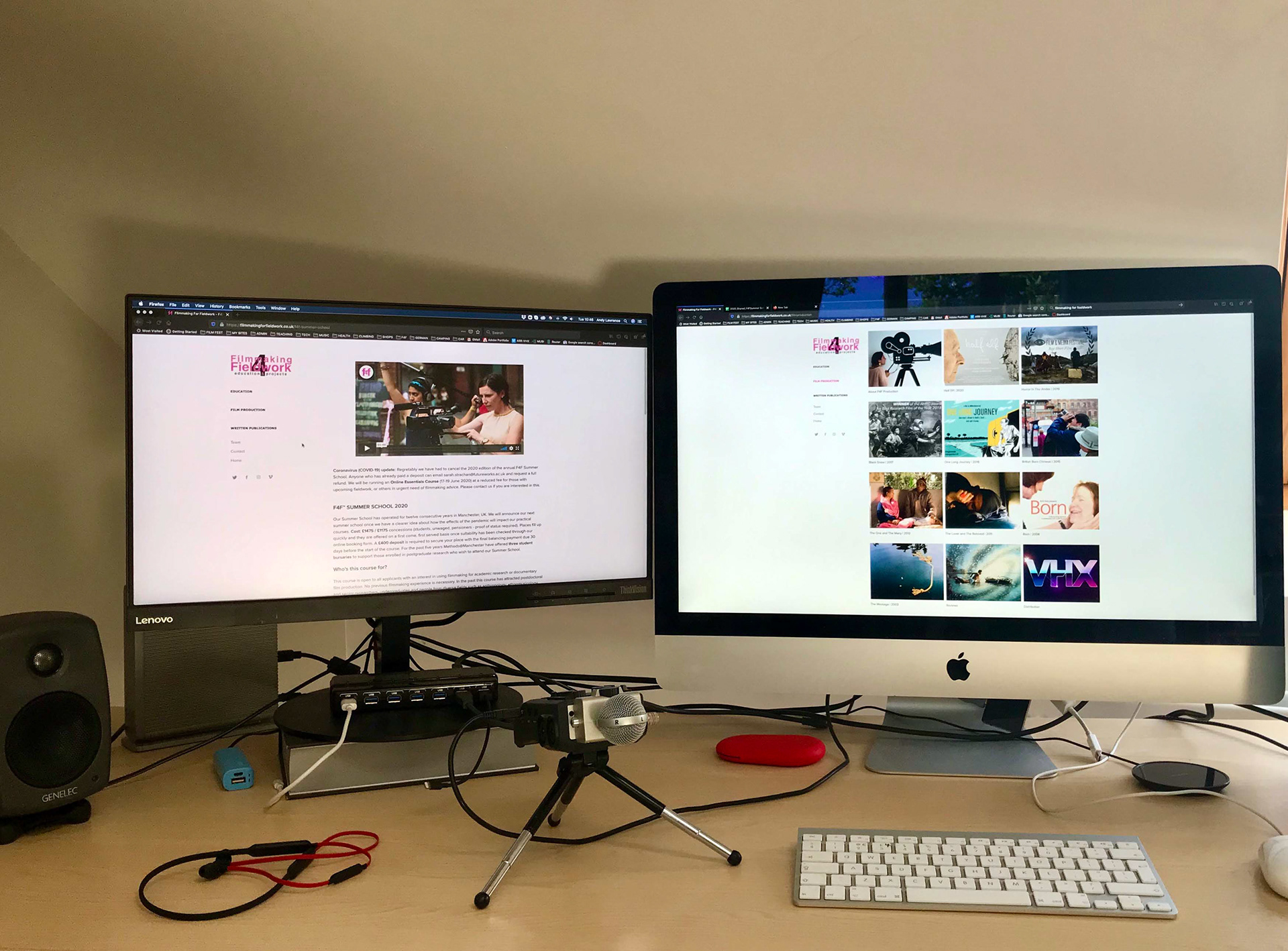 For past ten years, we have offered project support and editing advice remotely to those working in distant locations or who are unable to travel. In 2018, some of our training courses also went online as a way to reduce our carbon footprint. The use of dedicated teaching websites, online tools and downloadable editing software lowers the overall cost of our training and it also limits our participants' contribution to climate change, by taking away the need for international travel and short-term accommodation. This foundational training makes use of the equipment that participants will operate in the field or the smartphone technology that they commonly use to document their everyday lives. Our idea is to help develop local hubs of film practitioners that we can support remotely on a one-to-one or group basis in an environmentally sustainable way. 
As a response to the Covid-19 pandemic we cancelled our annual F4F Summer School and instead designed an online course to help those with upcoming teaching, research and filmmaking projects. The course includes access to a dedicated website of instructional materials, four days of structured learning involving class discussion and tutorial between 3 - 24 June 2020 and it allows time for independent practice and background reading/viewing in your own location. It costs £350/€400 for concessions or £450/€525 in employment (other currencies accepted).

This course is now
FULL
. Please contact us if you wish to take part in future online courses and wish us to send you a booking form and draft schedule.
Teaching includes technical and theoretical instructions in
camera, sound, editing, ethics and approach
for research and documentary filmmaking. All teaching materials used for our F4F Summer School will be provided via a dedicated website. There are
four days of contact teaching
that operate between 13:00 - 18:00 (BST - UK), to accommodate participants from various time zones. A preliminary meeting is held two weeks prior to the start of the course, where access to our dedicated website will be granted and we explain the integration and pedagogy of the course. Our
F4F Online Essentials website
contains course materials, here participants can read instructional texts for each of the ten learning units, watch video explainers, follow useful links and access background reading and viewing information. We use the
Zoom
platform for class-based interactive discussions structured around each unit, lasting 40-minutes with a break between sessions. Four practical filmmaking exercises, that mimic common fieldwork scenarios, have been designed to help consolidate the learning units. We suggest that students upload their results to
Vimeo
, or a similar video platform, so that they can be shared on
Slack
, which will operate as our space to continue class discussion, comment on the work of others and socialise

.
Everyone who has attended the main sessions will receive a certificate of attendance and be welcomed as an F4F alumni. Five days after the Zoom sessions have concluded, and once you have had time to practice the method and digest the course materials, we will reconvene for parallel tutorial sessions, where our tutors will field further questions about the course pedagogy and how to apply it in your own work.
Participants should ensure they have access to the hardware and internet connection required to run Zoom software. The Vimeo and Slack extension is optional, as is the amount of web-based learning and individual practice. Students do not need to possess a camera, sound and editing facilities - a smartphone will suffice but this is also non-essential. Editing Apps are available online for free or paid download, depending on the software. We recommended students find some means of applying the instruction once the course has ended. The course aims to provide a basis on which participants can extend their learning through independent work in their location.
Once participants have completed the booking form and payment, we send a private link to a preliminary Zoom meeting scheduled two weeks before the main teaching. During this meeting we introduce our teachers, give password access to the website and information about Slack, Vimeo and the course integration and pedagogy. Participants will also have the opportunity to test their internet connection and practice with the Zoom software.