Our annual summer school ran for twelve consecutive years in Manchester, UK prior to Covid-19. Currently we have postponed face-to-face teaching until we have a clearer idea about how the pandemic will impact our practical courses. 
In its place we are offering an Online Essentials Course

 with many of the same features as our summer school but at a greatly reduced fee.

Please contact us if you are interested in this.
This course is open to all applicants with an interest in using filmmaking for academic research or documentary film production. No previous filmmaking experience is necessary. In the past this course has attracted postdoctoral and senior researchers, undergraduates and people from diverse fields such as anthropology, ethnomusicology, midwifery, archaeology, activism, history, broadcast television, NGOs, migration studies, business, international relations, sociology and political science. For the past five years Methods@Manchester have offered

three student bursaries

to support those enrolled in postgraduate research who wish to attend our Summer School.
The general objective is to provide participants with a hands-on understanding of the foundations of ethnographic documentary filmmaking, that they will build upon in their subsequent field research.
The course incorporates 11-days of intensive hands-on introduction to professional documentary and ethnographic filmmaking workflows. We teach cinematic techniques for camera and sound recording designed to explore and describe human action as it unfolds in field sites and editing as an analytic tool, aimed at developing a strong film narrative and to explore the role of storytelling in theory-making.

Production training is offered on HD camcorders and Rode NTG-1 microphones that meet UK broadcasting standards but are lightweight and relatively easy to operate. Editing training will given by industry professionals using the latest Adobe Premiere Pro CC software on dedicated AppleMac edit suites.
Participants are given access to a website that includes a teaching schedule, learning units, practice exercises, further readings on all practical aspects of the course, information about filmmaking equipment plus links, maps and other resources. Along with a complimentary copy of the Manchester University Press publication of 

Filmmaking for fieldwork: A practical handbook

by Andy Lawrence (2020)

.
Participants work in small production teams to make three short training films which each highlight an important part of documentary practice: the

process

sequence, a

testimony

or interview and an

event

recorded across a weekend. Through the collective debriefing of their own work plus associated screenings of ethnographic documentaries, participants will be encouraged to consider how these elements can be used as the 'building blocks' of more complex film narratives structured on thematic or chronological principles.
Hands-on training will be supplemented by documentary screenings as well as by a series of workshops covering topics such as:
Why make A documentary film?




Legal and ethical aspects of ethnographic film-making.


Modes of documentary storytelling including: collaborative and participatory methods, observational, reflexive and expressive forms, such as fictive narratives, sensory work and essays.
Production workflows.
Camera, sound and editing techniques.


Suggested filming kits to take to the field

.


Crowdfunding, online promotion and digital distribution.
The course begins on Monday at 9am and continues every weekday 9am-5pm, except the last Thursday when it will end around midday. On some evenings, there will be additional film screenings. Over the weekend, students will be assigned a filmmaking project.  
The Futureworks School of Media 

have provided

facilities and equipment for previous courses and we will update this website with more information on future courses as it becomes available.
Please consider the environmental impact when traveling to our courses. If you are driving then please contact us to see if other participants can share the cost of your journey. More information available soon.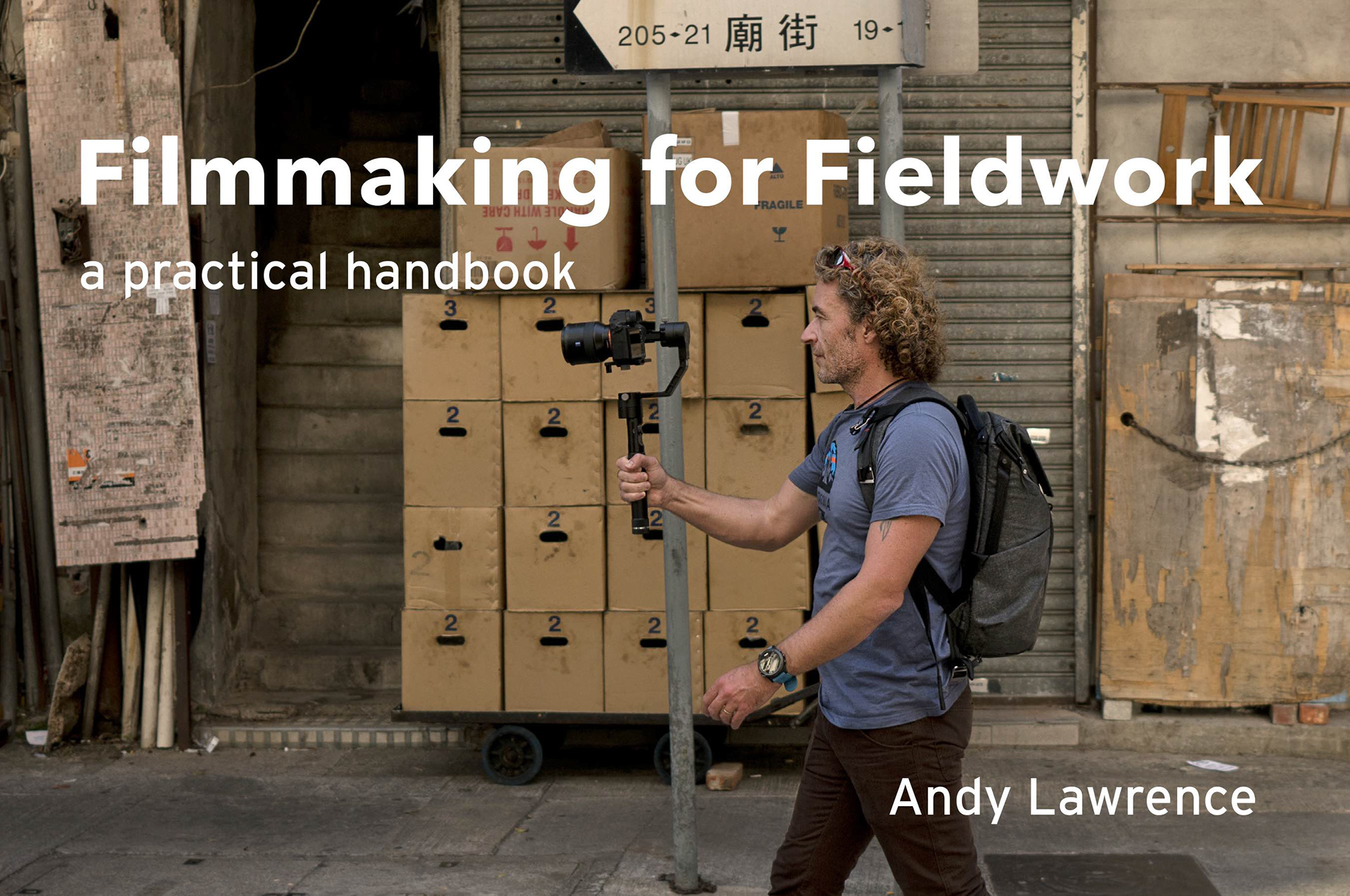 This course is also supported by
Filmmaking for fieldwork: a practical handbook
 (2020)
written by Andy Lawrence and published by Manchester University Press and available at all good booksellers. We recommend that anybody interested in our courses first consult this book.